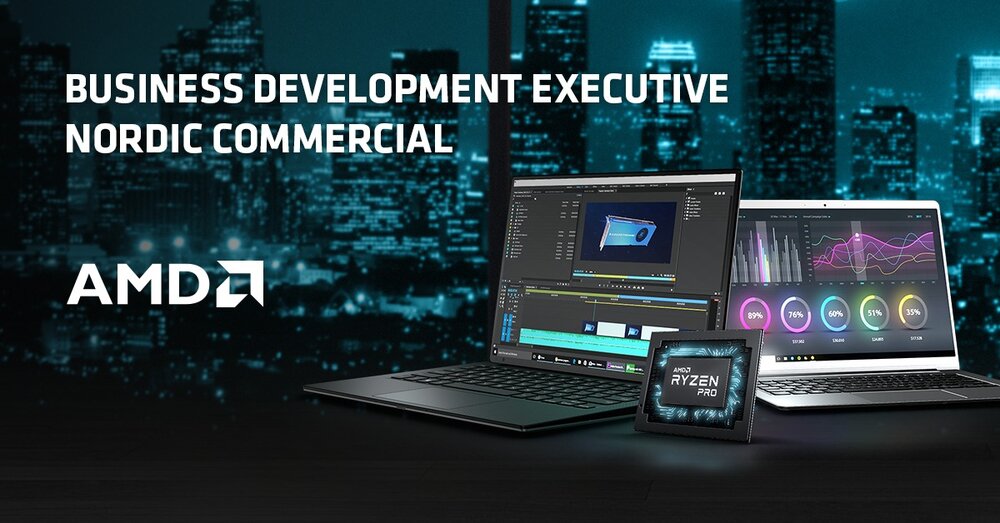 A RARE OPPORTUNITY
AMD is right now turning up the heat on their commercial operations in the Nordics. To build this up we seek to hire a Nordic Business Development Executive.
THE ROLE
You will be part of a business that has ambitious growth plans based on a solid business trajectory. Our mission is to increase sales of commercial PC's from HP, Lenovo, Dell and Acer. We wish to further increase our market share and partner breath in the Nordic marketplace. This will be achieved by optimizing and adapting our current go-to-market strategy and sales execution.
You will manage an exciting set of Channel Partners in the Nordic region and report to the Commercial Channel Manager for Northern Europe. You will be responsible for owning the strategic sales and commercial relationships. The primary focus will be driving sell though within existing partners while developing, owning and managing new strategic partnerships to enable further growth. You will work with the wider Nordic sales teams with a view to grow the account base.
You will be required to drive exceptional working practices to deliver the required results. The successful candidate must have the capability to implement a strategic business plan, drive through on actions and ultimately drive growth in the account set.
YOUR RESPONSIBILITIES
Manage a set of Channel Partners to increase AMD sell through and share of wallet.

Develop and manage a number of strategic business plans to grow sell out and the aligned partner base in a sustainable manner.

Meet face to face with Channel Partners on regular basis to support business plans, growth and strategic alignment with top OEMs.

Build AMD awareness, confidence and a deep understanding of AMD value proposition across Channel Partners sales force.

Foster strong relationship with sales managers, key players and decision makers within the aligned partner base.

Perform detailed Account reviews/QBR's on an on-going basis – including the wider teams where necessary.

Analyze and provide data that will highlight opportunities within the account set.

Work with marketing to design and execute meaningful marketing plans within the account set to support sell-out.

Manage existing sales rebate program within the aligned partner base.

Provide accurate quarterly forecasts, weekly sell-out and marketing results (click-through rates etc).
ROLE REQUIREMENTS
Strong external sales experience. Strong Channel sales experience.

Strong partner development skills with the ability to build out and execute to a robust business plan.

Strong program management skills.

Experience and strong ability to liaise with customers at an executive level - face to face.

Strong presentation skills.

Flexible and adaptable with a good attention to detail.

Excellent customer handling skills and empathy.

Operational excellence, passion and positive Attitude.

Product knowledge not essential.
HOW TO APPLY
Do you see yourself in this role? Send your application to christian.lystrup@glnordic.com, we meet applicants on a running basis so send your application right away.

If you have questions, don´t hesitate to contact: Christian Lystrup, COO & Client Director 0766 189 190
We look forward to start working with you!